B420L steel plate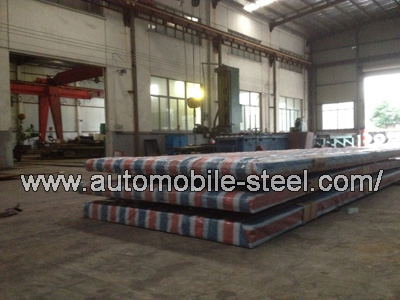 B420L belong in a cold-rolled sheet steel, cold-rolled sheet is hot rolled coils as raw material at room temperature at a temperature below the recrystallization rolling from, including board and volumes.
B420L steel performance: The main use of low-carbon steel grades, requires a good cold bending and welding properties, as well as some of the press performance.
B420L steel chemical composition
Grade

Chemical composition(Heat analysis)%

C

Si

Mn

P

S

Alt

B420L

≤0.10

≤0.30

≤0.05

≤0.030

≤0.025

≥0.010
B420L steel mechanical property
Grade

Tensile test

Yield strength

Tensile strength

Yield ratio

Elongation after fracture
A
L0=5.65√S0
(%)

180°Bending Test b
Diameter

B420L

≥215

320-420

--

≥27

0a
B420L steel is mainly used in automobile manufacturing, electrical products, rolling stock, aerospace, precision instruments, such as canned food.
HENAN JOIN-WIN IM/EX CORP Will return you with high-quality products and complete after-sale service with the lowest price. we committed to exceed customer's expectation on the basis of quality, price, and delivery. We sincerely hope to establish long-term cooperation relationship with you on the basis of mutual benefit, reciprocity and common development. As B420L Mechanical and B420L suppliers, we can supply B420L Chemical, B420L Mechanical and B420L standard for you ,please contact us : jw@steel-jw.com