QStE420TM Automotive steel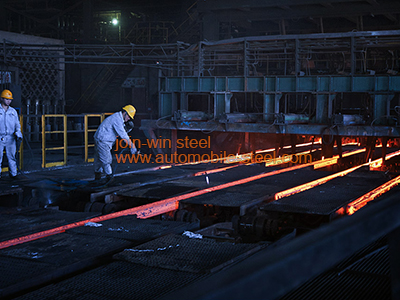 QStE420TM is a kind of Automotive structural steel, QStE420TM widely used for forming performance of the automobile frame, wheels and other automobile components.QStE420TM Hot-rolled grain steel for cold forming used for automotive structural parts such as automobile frames,which requires excellent cold forming performance and high-strength.
Key words:QStE420TM,QStE420TM automotive steel,QStE420TM automotive steel, QStE420TM steel for cold forming,QStE420TM hot rolled steel plate/thin plate / steel belt,Hot-rolled pickled strip QStE420TM steel,QStE420TM automotive steel for cold forming parts,QStE420TM high-strength automotive steel
QStE420TM steel chemical composition %
Grade

Chemical Composition a (Heat Analysis) (%)

C

Si

Mn

P

S

Alt

Others

QStE420TM

≤0.12

≤0.50

≤1.50

≤0.030

≤0.025

≥0.015

Nb≤0.09 V≤0.20 Ti≤0.15
QStE420TM Mechanical properties
Grade

Tensile Testa

180°Bending Test b Diameter

ReH

(MPa)

Rm

(MPa)

Elongation (%)

L0=80mm,b=20mm

L0=5.65√S0

Nominal Thickness(mm)

<3.0

≥3.0

0.5a

QStE420TM

≥420

480~620

≥16

≥21

1a
a: Tensile test specified values apply to longitudinal samples. Tensile test should use sample of L0=50mm, b=25mm, i.e. P14 sample of GB/T 228.
JW steel keeps more than 10,000 tons QStE420TM steel plates in stock each month. We can meet our customer's any quantity request. Based on these stock source, our advantage industry spread into steel process like : cutting ( any size and any shape ) drilling, welding, milling, machining and steel structure.
We also have a high quality logistics team who make sure the fast delivery time and shipment. Anyway, if you want to find hot rolled and cold rolled QStE420TM steel supplier, hot rolled and cold rolled QStE420TM steel manufacturer, hot rolled and cold rolled QStE420TM steel exporter, please contact JW steel's sales team. We will give you the hot rolled and cold rolled QStE420TM competitive price, hot rolled and cold rolled QStE420TM good quality and best service from us.
Reference Link : QStE380TM,QStE460TM,QStE500TM,QStE340TM, Automotive steel